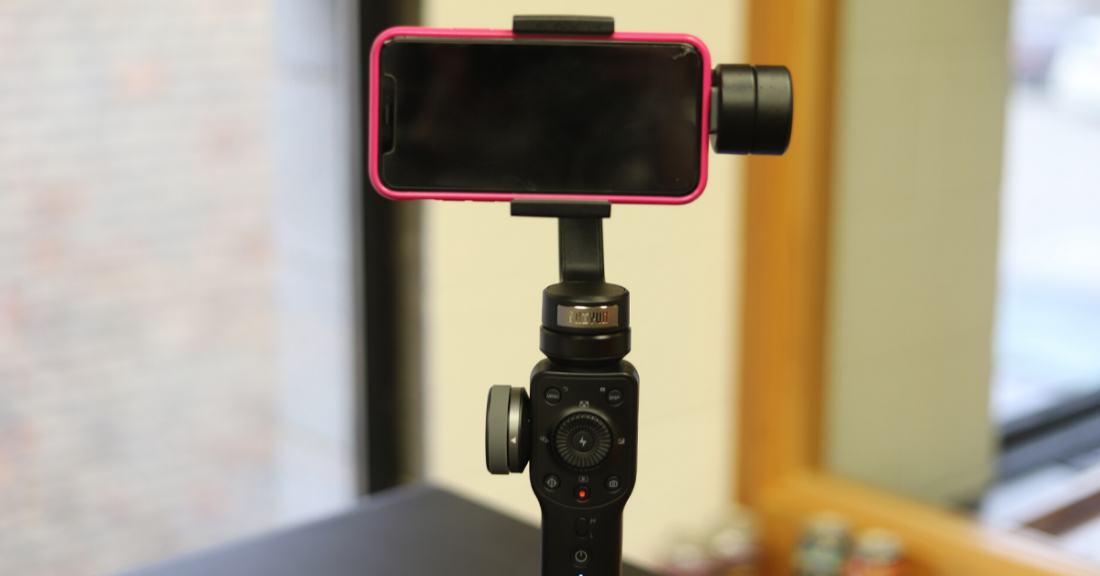 Creating Content on a Budget
So, you're ready to up your content, but don't have the budget for all of the fancy, new equipment. Do not fear Brand Yourself is here! While we do have some fancy gadgets, we are also well versed in using phones for content. The quality of phone cameras is at an all-time high, and you can use just that and a stabilizer to take great content on a budget!
One of our favorite products for phones that we use is Zhiyun Smooth 4. This is an affordable stabilizer that you can bring with you anywhere! This will give you the ease of creating professional-looking , stabilized, and smooth videos with your phone.
Buy it here: Zhiyun Smooth 4
Now that you have your stabilizer, you are ready to create! A few other tips we use to create great content with our phones is:
Clean Your Lens!
Nothing makes a photo/video lose quality like a dirty lens. This will add a weird haze or blur to your photos/videos that will make the quality poor.
Use the Grid!
This will help you achieve the rule of thirds with picture taking and videos. If you are not familiar with the rule of thirds, it is merely that your focal point should not be in the center of the shot. As you can see below, this is what the grid will look like on your phone. It is important to place the main focal point of the image on one of the four cross points. This will help you achieve a more professional looking photo/video.
Try a Different Lens Mode!
Depending on what kind of phone you have, there will be different lenses/filters you can use! There are options such as pano, square, portrait mode, slo-mo, time-lapse, and more! These will allow you to use different angles and styles to help your content stand out.
Get Creative!
Work on your squats and work those angles! Anyone can take a photo/video from a normal angle, so it's up to you to get creative and find a different perspective. Try it from the side, top-down, or bottom-up! There are endless possibilities with what angles you can take a photo/video from. Think about who your audience is and what message you are trying to convey. Then, take what you know, and start shooting!
Don't Zoom. Move Closer!
As soon as you start to zoom with a phone camera, the quality of the image will go down. To ensure crystal clear photos, you'll need to get up close and personal with your subject.
Free Apps!
There are tons of free apps that you can download on your phone to help with editing. We suggest downloading a few different free options, playing with them, and then if you have the budget buying the pro version of a few you like!
Creating content does not have to be expensive, and with these few tips, you'll be creating unique and engaging content with your phone in no time! If you are ready to take your video to the next level, we really do recommend the Zhiyun Smooth 4. You can order it from Amazon for about $100. It comes with a charging cable and a stand. Once you download their app, you are ready to start creating! The stabilizer also offers many different settings to help you achieve your creative goals!
Happy creating!